What to look for in software for your business
If you work in tech development, you've probably heard of the term tech stack.  For the web and product developers of the world, this description from Perfectial might make a lot of sense:
"The technology stack is a combination of programming languages, frameworks, and tools that developers use to build a web or mobile app. The two main components of any app are client-side (front-end) and server-side (back-end). Each layer of the application is built atop the one below, thus creating a stack."
Have you considered how the operational side of your business fits into your tech stack?
Here's our definition of tech stack
The collection of tools, platforms, apps, and pieces of software that a company uses to build its products, carry out its business operations, and monitor its performance metrics.

 
More and more, apps and digital services for businesses are finding ways to work with each other – customization is the name of the game in this new digital world, so products need to integrate easily to support the businesses that use them. There are so many to choose from it's hard to separate the wheat from the chaff.
What to look for in business software
Here are our recommendations for what you should think about when you're considering new software for your business.
Ability to scale – If you have 10 customers now, will your apps be able to support you if you grow to 10,000?  If you have 2 employees on payroll now, what will the process look like when you have 500?
Integration with other potential software – You may have a sweet expense app for those on-the-go purchases, but does it easily translate to your accounting software? If you're trying to track your North Star Metric – can your sales software communicate with your productivity management system to tie financial and non-financial data together?
Supported on the cloud – Cloud support can mean two things:
1. Your data is stored in the cloud, reducing the liability of your on-site business records being destroyed in the event of fire or flood, and
2. Updates to the software are automatically pushed through. If you're still receiving software updates in the mail by CD ROM, you may be exposing your business to significant security risks.
Authentication and security – This one is especially important for tech companies who often deal with sensitive information in a competitive arena.  You'll want to make sure the app developers are actively working to update and secure each piece of software you use, and you should look for software that lets you enable two-factor authentication.
Ease of use – Pick the software that works best for you and your business needs. There are lots of cool offerings in the app marketplace, but if a piece of software isn't easy to use, you're not going to use it to its full potential, and any money you've spent on it is wasted.
Reporting – Especially important for financial, HR, and productivity management software; look for the reports these products can generate. The more information you have, the more insight you can gain into your business.
Customer support – Look at reviews of your prospective apps to see other people's experiences with customer support.  Complex software will sometimes come with personalized onboarding assistance, a phone number, a chatbot, or a community of users to provide help and solutions. If you prefer to talk to a person rather than a chatbot, you may become frustrated if you find yourself in need of help.
Cost – Of course, cost must factor into your decision-making. Some apps will offer a "freemium" service, where you can use the app but not receive certain features like personalized support or reporting. Some apps will offer a 7, 14, or 30-day trial so you can see what you're getting into before you commit, and some will have levels of payments that scale with the size of the services you need.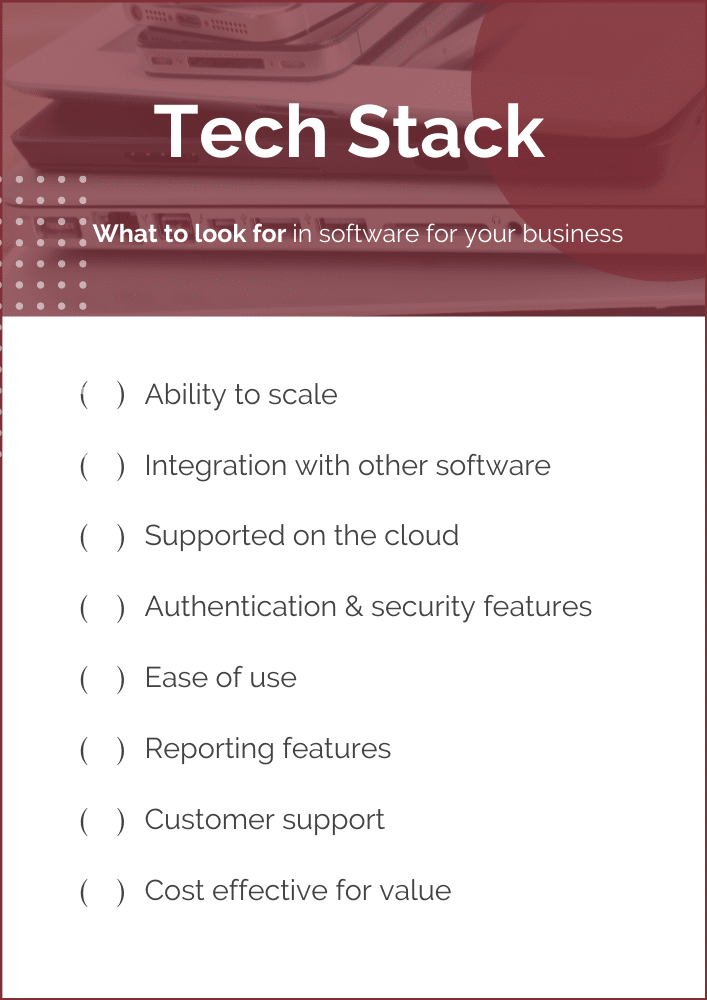 In our next blog, we'll talk about how to build that operational tech stack from the ground up.
If you have any questions about how to build your tech stack or need help making it work for you, get in touch with us at reception@crescendo-cpa.ca.